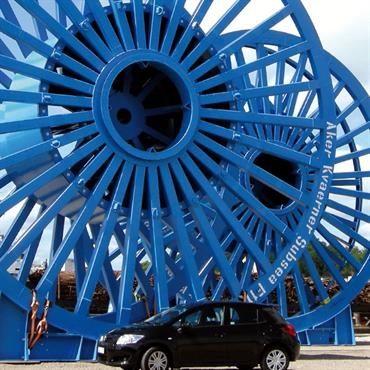 Steel drums cover a very wide range of applications.
Svensson Group has been supplying the offshore industry with very large drums/reels for oil, gas and wind power applications for many years. These drums have to meet strict requirements, since they are used in harsh environments where the loads are often very high. We have the design, calculation and project management resources to undertake large and complex projects.
Somewhat in contrast to the very large offshore drums, we also design and supply smaller machine and delivery drums, primarily for the cable industry. These drums range in size from about 2000 to 4500 mm, and are available in a variety of designs. Some of these are standard drums with short delivery times, while others require a more complicated design and manufacturing process.
We are happy to review your changing needs and help you maintain the quality and quantity of machine drums and/or delivery drums you require.
Our steel drums are manufactured in collaboration with a number of suppliers in Europe and Asia.